Container logjam intesifies at two busiest U.S. ports
27/11/2021
Huge backlog of containers at Los Angeles and Long Beach ports as the number of ships wanting to get in hit a new record.
Some of US holiday items may be delayed by supply chain bottleneck at places like Los Angeles and Long Beach. In an interview with CBS Mornings' Carter Evans, Ramon Ponce Leon - president of local longshoreman union - explained the reason for the backlog.
"There is no room in the yard to unload the vessel" - said Ramon - "Its normally cooking around here, everybody is moving but because there is no place in the yard". This explains the surprising sight of many cranes remain idle while the record number of containers are piling high in these ports.
Rick - a crane operator - said that he used to work much faster: "Usually, it probably took 3 and a half – 4 days to unload a ship full of container. Now, it's about 9 days or sometimes longer". Rick can only unload the container when there is place to put and as Ramon has said: there is simply no more room to put the container. With up to 20 million containers coming to these ports, the pile keeps growing and growing, creating rows after rows of idle containers.
Worse still, when the trucks come in to pick up the containers, they simply can't get what they want. Each truck comes for a specific container, and that container might be stuck in the middle of a huge pile; which mean more waiting time to get the right one. It's like a giant game of Zenga where you have to move dozens of containers just to get to the one in the bottom.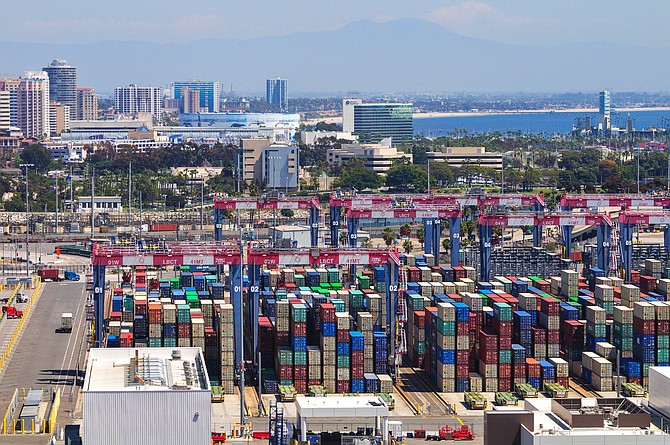 According to Ramon, the dwell time here is average 9 days, and add to the time to unload, it can reach 18 days before containers can leave the dock.
Earlier this year, the new infrastructure law has 17 billion dollars earmarked for the national ports and Ramon believes that spending them on port rail improvement will help. Unfortunately, he acknowledges that these are big money projects and will take a long time.
This week, US navy allows containers to be stored at port Hueneme naval base, which is a very welcoming news for longshoreman. "... whatever it takes to give us some more fluidity, breathing space in the terminal so we can move the container a lot faster," said Ramon.
The Whitehouse said that more big brand are promising to schedule more overnight pickup but until then, things are not moving faster.
Sign up to download the profile
Complete your information in the form below